Well like most of you, I like the idea of the ACR being modular, and I think this entails being able to swap the grip out as well. Although I have no issues with the stock grip. I would like to do a 6.5 DMR ACR build at some point and that could benefit from a different grip. I have had this done for some time, but trying to get anywhere past a concept has provide difficult, especially recently as any contact I had in the firearms industry though my friends with regards to machining are swamped with AR parts as of late.
However a good friend of mine, a Mechanical Engineer who has helped me QC the dimensions, and supplied solidworks to me, was able to get a ABS prototype made. Which should be available by the end of the week.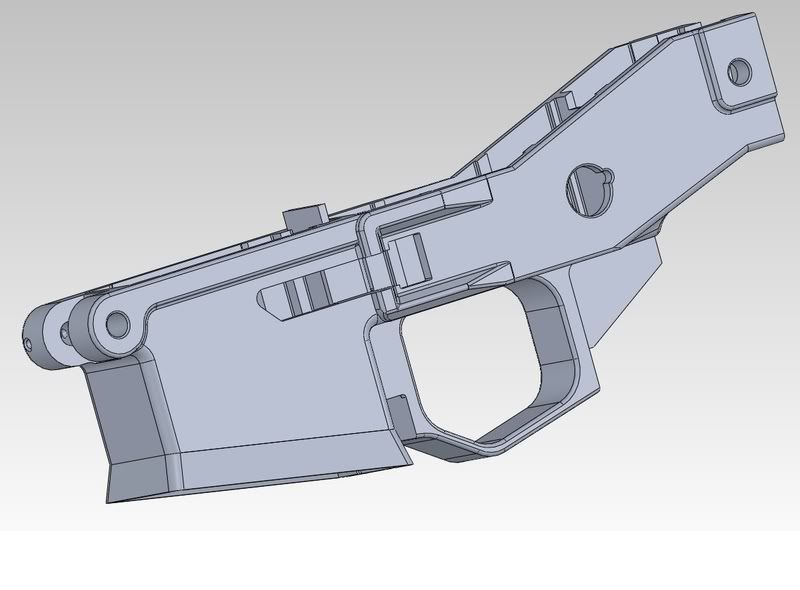 This lower has a much more aggressive Magazine flare, trigger guard, and it obviously accepts a standard AR15 grip. At this point it will retain the use of the trigger box.
Aesthetically the lower is likely to change more to try and reduce machining costs, and if possible reduce weight while making it more unique.
When discussing the lack of access to machines, my Father pulled through and had gave me the contact information of a client who owns a machine shops which specializes in prototype develop, and actually has some military contracts. I spoke with the owner today and he is interested in building them, and more importantly we can get on his machines in a timely manner.
If the ABS prototype fits, and functions correctly. We will build a few test mules for myself and friends, while this is being done we can get prices on additional lots of units if their is interest in them, say in lots of 25, 50, maybe 75 units.
If their is enough serious interest we may do a group buy, with a minimum amount requirement of pending orders before we proceed.
Things which haven't fully been hashed out is coatings. More then likely we would cerakote the lowers in either black or coyote unless some on wanted it raw. Though I have to talk to my other friend involved in this about his employers capabilities as they are swamped with projects.
I will continue to keep the forum updated has the project progresses, once the prototypes are finished there may a lull in progress as I have an ass pain of the military school coming up for 7 weeks, which starts next week. This however shouldn't hinder things to much, as there are two others who are involved in this so they should be able to keep it moving forward, while I keep you updated when I have down time.