I am building up some stock with Acr parts and have some factory as well as aftermarket parts on tap
Current Bushmaster/Remington inventory
1 factory cut and lightened 1/9 complete barrel set. Pinned silencerco asr brake-475 shipped
1 factory 18.5" stripped barrel-225 shipped
1 factory 14.5" stripped barrel-225 shipped
1 factory 10.5" stripped barrel-225 shipped
4 Acr regulators-70 shipped
Several lock rings
1 in stock. V2 brass deflectors-20 shipped
lock ring spacers-12 shipped
2 complete Lower parts kits, minus the takedown pins and detents
2 black mag release buttons
2 Coyote brown mag release buttons
4 piston springs
Aftermarket inventory
Stainless bolt for the lock ring handle, this has a thumb screw for quick disconnect. 8.50 shipped
Bigdog black ambi charging handle, 1 screw-1 pin. 35 shipped
Bigdog black bolt catch with pin. 23 shipped
I have every bolt used in the rifle also, they are aftermarket but generally cheaper than from bushmaster.
Each are 1.00, shipping is 3.00. Can throw a bunch of bolts in one package and the shipping won't go up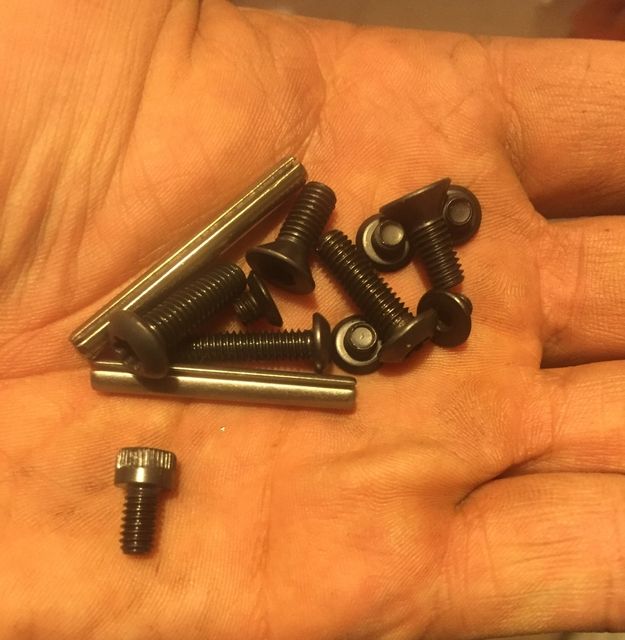 I have the small taper screws that are 4.50 a piece from bushmaster. These are aftermarket, they are slightly smaller and black. So if you need one, I'd recommend swapping all 5 over for uniformity.
Stainless Trunion pins, 1.00 each, there is a top and bottom one. Both are different.
Trunion bolts, I have the torx head ones like the V2 uses. I can order the factory Allen key ones if anyone wants those instead.
Brass deflector bolts. These are the same as own.
Torx bolts for the locking ring handle, (these are 4.50 from BM)
I will update this post with a full real time status on what I have in stock. I have more but will list it later.
I currently have 5 coyote charging handle knobs on back order. When they ship, I'll let you guys know.
Price list for group parts (barrel sets minus barrels and lower parts kits)

gas block-100
piston-65
piston spring-10
piston support-115
lock ring-65
lock ring spacer-10
lock ring handle-25
taper pins-5

labor, complete tune and return shipping with signature confirmation/insurance-225

LOWER PARTS KIT
Bigdog catch-17 (combined shipping)

OR
Factory catch-5

Bolt Stop-25
Bolt catch pin-1
Bolt catch spring-1

Mag catch-15
Mag catch button-7.50
Mag catch pin-2.50
Mag catch spring-5
Detent-2 (1.00 each)
Detent springs-2 (1.00 each)

Total without shipping takedown pins and plastic mag catch, 61